Paul Davis: Bringing local businesses together to assist Texas snow and ice storm victims
In the wake of the February 2021 snow and ice storm that caused extensive damage and power loss in parts of Texas, Paul Davis' Emergency Response Coordinator Scott Brooks felt like he needed to do something to help. Upon learning many residents had to boil snow for drinking water to survive, he decided to launch a water donation drive.
Scott quickly got to work making calls to Jacksonville, Florida-area news stations, churches, grocery stores and beer distributors. Before long, he was receiving water donations from companies including Winn-Dixie. He was also able to secure donated beer trucks from Champion Brands to deliver the water.
"Many of our teams were going to Texas to assist in restoration efforts. One of our serving basics is to help those in need, so organizing a water donation drive felt like the right thing to do," said Scott.
Scott even received help from the Cajun Navy, a non-profit group of volunteers who deploy to disaster areas throughout the southern United States, to deliver the donated water.
In all, 1373 cases of water were delivered to Houston and Houston area residents.
The donation drive is just one proof point of how Scott embodies our Social Purpose. Each year he organizes a charity golf tournament to raise money and awareness for the National Fallen Firefighters Association. The 2021 event, which is in the active planning stages now, will be scheduled for the end of August or early September and will be held at Eagle Landing in Jacksonville.
California Closets: Supporting Men of Valor and Helping Shape Better Futures
Following up on its 2018 involvement with Nashville-based Men of Valor's Phase 1 housing build, California Closets of Tennessee recently completed the installation of 33 more closets in the Phase 2 building, Valor Ridge. This brings its total contribution to 93 new closets — with all materials and labor given free of charge.
The new residential spaces at Valor Ridge will provide housing for participants in Men of Valor's year-long prison aftercare and re-entry program. The recidivism rate (prisoners rearrested after release) in Tennessee is 51 percent. The recidivism rate for graduates of the Men of Valor program is less than 10 percent.
"We are excited to continue to support the life-changing work of Men of Valor," says CCTN Owner Kurt Schusterman. "California Closets of Tennessee is committed to looking for ways to give back to others who are making an impact in our community. Clearly, the Men of Valor team is doing just that. This was a team effort and is a great example of living out our company values."
Additionally, Kurt and his team were thrilled to get the support of CC vendors to help make this possible, including DixiePly for wood product, Valendrawers for the drawers, Salice for the runners, and TAG hardware for poles and other hardware.
"As a faith-based nonprofit we are always grateful for donations," said David Miller, Men of Valor's Development Director. "We appreciate California Closets of Tennessee once again stepping forward to support our mission by donating closets for the second phase of housing at our Valor Ridge community."
CertaPro: Company Painter Provides Food and Necessities to Those in Need in El Salvador
We love sharing stories of how our team members find their own Social Purpose. Efrain Montoya, a painter with CertaPro in Thousand Oaks, CA, wanted to help those in need in El Salvador. Efrain, whose brother lives there, has been collecting monetary donations here in the United States and and sending the money to his brother in El Salvador. His brother uses the money to buy groceries and other essentials for those in need. Many of the people they help are extremely impoverished, living in shacks in rural areas with no easy access or means to obtain food or other supplies.
Kudos to Efrain and his brother for identifying a way they can help people and putting together a plan to make a difference in their lives.
Many of the supply deliveries have been recorded, and can be viewed below.
Super Restoration: Working Together to Feed 307 Starving Children for an Entire Year
It was all hands on deck on Saturday, November 23, 2019 when more than 528 volunteers came together to pack 112,104 meals to feed 307 starving children throughout the world for an entire year!
In addition to the food packed, the team raised more than $30,000 to help fund the noble work of Feed My Starving Children.
"Dear Super Restoration team – THANK YOU! You are all such champions for putting on this event for your community," said Bethany Durst, Feed My Starving Children eemployee. "It was wonderful serving with you all. This was one of the most efficient packs I've done because of your hard prep work. I hope our paths cross again soon!"
This event is meaningful to so many at Super Restoration who demonstrate a commitment to #FirstServeOthers through many activities throughout the year.
"This was my second year coordinating the Feed My Starving Children Event to be hosted at Super Restoration. I began working on this year's event in July 2019. This year, I was able to create and organize more efficiently because I had experience under my belt. It was so amazing to see a lot of hard work and effort come together on the event day," said Jamie O'Camb, executive assistant to Rene Vargas. 'When I saw all of the volunteers in our warehouse, it made me so proud to be part of a company that sees the value in giving back to our community. It was such a blessing to meet all of the genuine people and families who took time out of their weekend to help people around the world. Once again, this event made such an impact on me and will be something I continue to support and work on for the years to come!"
Congrats to the Super Restoration team on an incredibly successful and meaningful event!
Planned Companies: Helping Beautify Local Parks and Beaches as Part of #CleanUpWeek
Planned Companies demonstrated its commitment to Our Environment during a recent series of events in support of #CleanUpWeek. Company volunteers cleaned up parks and beaches to support this important initiative, and experienced a fun team building event at the same time.
Read More
Paul Davis: Helping to Keep Local Beaches Beautiful
One of the perks of working in Jacksonville, FL is access to its beautiful beaches. This is something many on the team at the local Paul Davis Restoration office enjoy with family and friends, and with each other, participating in Social Purpose activities such as beach training runs and 5K events.
Giving Back to the Community & Enhancing Corporate Culture
Recently, the Quality Assurance department began planning a beach clean up as a team building event. When Kali Freeland, talent and change leader, heard about the event she asked Director of QA & Cat Services Leanne Etheridge if they could expand the group to include the whole team as an activity in support of two pillars of our Social Purpose, Our People and Our Environment. Leanne's response: "The more the merrier! We can even expand it to the local office and sister brands in Jacksonville." So that's just what they did.
A team of 21 turned out on a beautiful Saturday morning and got to work picking up trash and other debris.  In total, they removed over 20 gallons of trash from a space that serves as an estuary, endangered turtle breeding ground, and a place of peace and enjoyment for beachgoers. Their hard work did not go unnoticed. In addition to getting lots of thank yous from beach goers, a local newspaper even published a story about their contributions.
While the event was a big success, the team realized if they hold their next clean up event on a Sunday they could have an even bigger impact, cleaning up after Saturday's beach goers have left.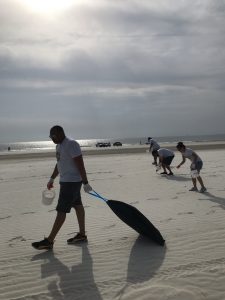 "I am so proud to be part of an organization that supports and encourages the concept of serving others," said Leanne. "I realize that change can provide the most impact when it happens close to home, so deciding to facilitate and participate in an event that directly impacted the local community was an easy choice. Those of us who are Jacksonville natives are a little spoiled – the beach is a short drive for most. Because of that, I felt it was important to preserve and protect such an amazing and important resource. And more than that, seeing patrons ask us who Paul Davis is and what are our team was doing, really inspired me to engage more in serving our local community."
The team at Paul Davis embraces Social Purpose as a way to not only give back to the local community but also to enhance its corporate culture.
"I'm proud to work for a company that supports the causes and organizations that our employees care about," said Kali. " We're seeing more engagement in social purpose than ever and I believe the grass-roots approach and variety not only allows team members to share their own "passion projects" but it also allows us to see the results of our work right here in our own communities."
FirstService Residential: Underwater Clean Up Sets World Record
California Closets: Lending Expertise and Lots of Muscle to Habitat for Humanity
FirstService Residential: Providing Nutritious Meals to Those with Serious Illnesses
Philly-area high-rise
associates teamed up with MANNA to provide healthy meals to those suffering from serious illnesses. The team spent the day cooking, preparing and packaging meals and were even joined by residents of other FirstService Residential-managed communities.
Pillar To Post: Working Together to Clean Up Trash