Paul Davis: Bringing Teams Together to Support Hurricane Ida Victims
In the aftermath of Hurricane Ida's devastating blow to communities in Louisiana and Mississippi, Scott Brooks, Jake Wilson and Amelia Podojil sprang into action. The team organized a water donation drive to provide water to residents facing unimaginable conditions as a result of this monstrous storm.
The team set an ambitious goal was to quickly fill one truck with 1,000 cases of water. As a result of the generosity of the Paul Davis corporate team, many Paul Davis Owners, FirstService sister Brands, and the Jacksonville Community, the team doubled its goal and delivered 2,654 cases of water to storm victims. Floor Coverings International stepped up and provided 450 cases, and Mickey McHenry of Paul Davis South Atlanta generously donated 300 cases.
As a result, hundreds of people impacted by Hurricane Ida will be able to drink, cook, and bathe with clean water. Thank you to the Paul Davis team and everyone involved who showed what it means to #FirstServeOthers!
The team at Paul Davis are experts at quickly mitigating the impacts of fire, floods and other disasters. In March of this year, the team worked with a beer distributor to deliver more than 1,300 cases of water to Houston-area residents impacted by the snow and ice storm.
Earth Day 2021: Sustainability Tips from California Closets Team Members
We'd like to thank Sara Scoville and Michael Swalberg from California Closets for sharing some of their tips for living more environmentally friendly lifestyles. Hope you enjoy this short video!
Poolman and All Florida Pools Provide Necessities to Homeless Citizens
During the recent holiday season, team members at Poolman and All Florida Pools came up with a novel way to make a difference for homeless members of their communities. Technicians in Florida, Phoenix, Tucson, San Diego, Texas and Las Vegas were given bags and backpacks containing essential supplies including personal hygiene items, socks, water and certain proteins for food. During their routes, they distributed these bags to homeless community members.
"I have always believed that it is better to Give… Give… Give… before you Get… Get… Get…! Having served on a board that serves the homeless population, I gained first hand knowledge of the critical state that this group lives in on a day-to-day basis," said President, Residential Aquatics, Vic Valentine. "These are not just homeless people; they are sons, daughters, mothers, and fathers. What a better idea than to rally the troops and not only give to individuals in need, but also serve together for a greater purpose than ourselves. Serving the homeless is a great life lesson in humility as well!"
In total, 672 bags were distributed, making our homeless community members more comfortable and showing them that people care about their wellbeing.
TLS: Holiday "Cariboulation" Food Drive Exceeds Goals
TLS recently concluded its Caring Celebration, or "Holiday Cariboulation," to collect food for local food banks.
The team TRIPLED its goal of donating 500 items — collecting 2442 food items/dollar donations for local food banks. TLS generously matched that number and is donating $2,442 to a local food bank. When it came time to deliver the items, Santa himself, joined by his favorite "reindog," helped distribute the donated food.
We'd like to thank everyone for their participation in this great cause. Now more than ever food banks need support and this is a wonderful way to #FirstServeOthers.
CertaPro: Supporting Alzheimer's Awareness is a Family Affair
When Jason Phillips, Director of Strategic Accounts for CertaPro Painters, learned one of the company's clients, JEA Senior Living, had formed a fundraising team for the virtual Walk to End Alzheimer's he was quick to sign on to help.
He recruited family to join him, launched a fundraising page and promoted his plans through LinkedIn. Within a little over a week he exceeded his fundraising goal of $500.
The day of the walk, Jason was joined by his wife, his sister and her husband and they spent the morning hiking the beautiful Salmon Creek trail in his hometown of Vancouver, WA.
"Alzheimer's is a disease that devastates many families, and it's one that afflicts many residents of our client's senior living facilities," said Jason. "It was my pleasure to help raise awareness of Alzheimer's and support the work JEA Senior Living does to honor the experience of aging for the residents they serve."
JEA Senior Living operates more than 50 specialized care centers around the country to meet the special needs of Alzheimer's patients.
For more information, or to make a donation, click here.
The Amenity Collective: Easy Ways to Practice Self Care – Go Ahead, You Deserve It
For many, it feels like the world has been turned upside down. In what feels like the blink of an eye, all of our lives have changed dramatically. We're all doing our part to adapt to our new normal. These are incredibly stressful times, and we know the impact stress can have on one's health and well-being. If ever there was a good time to focus on self-care, this is it.
We wanted to share some ideas of ways you can maintain your emotional and physical wellbeing, reduce stress, stay fit and make the most of the time while you are sheltering in place.
Through its subsidiaries including Heartline Fitness and LIVunLtd, The Amenity Collective delivers health and wellness programs to some of the most iconic properties and spas in the U.S. To help promote wellness to a broader audience, the company is now offering a variety of free resources for you and your family.
Three Sages Wellness App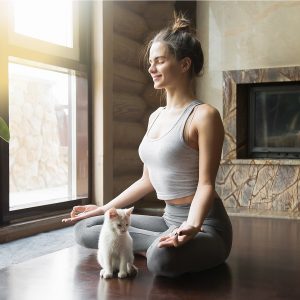 Heartline Fitness has partnered with Three Sages to provide complimentary access to this new mobile app which offers natured inspired sips of wellness, in the form of short, engaging audio and video content. Its intent is to help you move, nourish and restore. Through a series of questions, the app customizes programming based on your preferences and offers everything from "quick fixes" – yoga sequences and meditations you can do anywhere – to longer, more intensive sessions. Explore a wide range of recipes for healthy snacks, smoothies and spritzers, and, when your day is done, the app's Evening Sleep music helps you relax, unwind and drift off to a restorative sleep.
Get Started: Simply search for Three Sages in the Apple Store and use access code "heartline" (case sensitive) to get the app for free for 60 days!
Instructor-Led Fitness Programs
LIVunLtd is the premier concierge, fitness, wellness, event programming and lifestyle management collective. Residents of properties utilizing LIV's services have had access to the latest fitness and wellness programming, delivered by top trainers. Today, anyone can participate in a wide range of classes from the comfort of your home. All that's needed is a smartphone and an Instagram account!
Classes are taught live every day at 10 am and on Tuesday through Friday also at 1 pm ET – so it's worth setting a calendar reminder and hopping onto Instagram for a healthy break. The company offers Zumba, meditation, HIIT, Barre, and exclusive LIV Definition, LIV Power Flow, LIV Vinyasa Flow and, for the fitness-ambitious, LIV Extreme Definition.
The impetus behind LIV's offering driven by a desire to keep as many team members employed as possible. In addition, "We wanted to stay engaged and try to help our residents feel a sense of connection, wellbeing and community with the familiar faces of LIVunLtd they have come to know in their buildings," said Michael Fazio, Chief Creative Officer. He added, "We decided to open up our classes to the public to give them access to our quality wellness programming."
Get Started: Follow LIVunLtd on Instagram and look for their new stories every day at 10 am and 1 pm ET.
Soon, LIV classes will be available on IGTV so you can participate when it's convenient for you. Stay tuned for more details.
American Pool: Takes the Polar Bear Plunge to Support Special Olympics
Two dozen members of American Pool recently braved the icy waters of Chesapeake Bay with a shared goal in mind, to raise money to support Special Olympics Maryland. Collectively, the team raised more than $12,000 for this worthy cause. Dressed in everything from monkey suits to patriotic swim trunks, they brought fun and enthusiasm to the plunge. In addition to increasing awareness and funding for Special Olympics, the event was also a wonderful way to build camaraderie and promote the American Pool brand because, after all, they are the experts in all things water-related!
Read More
Planned Companies: Helping Beautify Local Parks and Beaches as Part of #CleanUpWeek
Planned Companies demonstrated its commitment to Our Environment during a recent series of events in support of #CleanUpWeek. Company volunteers cleaned up parks and beaches to support this important initiative, and experienced a fun team building event at the same time.
Read More
CertaPro: Donates Expert Painting Services to Shriners Hospital in Spokane
FirstService Residential: Running in Support of the Salvation Army