FirstService Relief Fund: Helping Family Struggling with Difficult Medical Condition
Meet Carly, the first employee to receive a grant from the FirstService Relief Fund. Her daughter is battling a rare disease, Neurofibromatosis 2 (NF2). When she began working at Century Fire in early 2018, she had no idea that support for her family was just around the corner. Carly graciously agreed to share her story in the hopes it might motivate others facing hardship to apply for a grant or inspire associates to consider making a donation.
Carly was 3 ½ months pregnant with her daughter Baylee when her baby's father was diagnosed with Neurofibromatosis 2 (NF2), a rare genetic disorder affecting approximately one in every 40K births. The couple learned that those with the disorder have a 50% chance of passing the disease onto their children. Excitement and anticipation about her pregnancy was quickly replaced by worry and uncertainty. Would her baby be afflicted with the disorder, and if she was, what quality of life would she have?
Many people have never heard of NF2, which is characterized by the development of tumors on the nerve which carries sound and balance information from the inner ear to the brain. These non-cancerous tumors are called vestibular schwannomas and can cause severe hearing problems and even complete hearing loss, in addition to a host of other issues.

The appearance of signs of NF2 vary from person to person — most experience their first symptoms during their late teens or early 20s, and about 10% develop symptoms during late childhood. Currently, there is no cure for the disorder.
For the first 12 years of her life, Baylee was like any other happy, active, athletic kid. A talented volleyball player, she loved being part of a team and enjoyed the camaraderie and friendships she developed through sports. But soon, life as she knew it would drastically change. Baylee began experiencing symptoms of NF2 and test results confirmed the worst.
Looking at Baylee, now 16, you would never know anything was wrong – there are no outwardly visible signs she suffers from such a difficult disorder. But every day is challenging for her. She has suffered breathing and speech problems due to a 50% shut airway and paralyzed vocal chord, and lives with many of the common effects of NF2 including hearing loss and a constant ringing in her ears, dizziness, nausea and, most recently, pain in her lower back caused by a tumor growing at the base of her spine.
Baylee receives bi-annual MRIs to monitor the growth of her tumors and attends speech therapy sessions to assist her with her breathing, which have been very helpful for her. Many NF2 experts advise patients not to have the tumors removed because doing so presents high risk of more severe damage to the affected nerves. Although the overall cancer risk is low, the tumors can lead to significant medical problems, depending on the number of them and their proximity to the brain.
Determined not to let her disorder define her, Baylee is a standout student who takes pre-AP classes and is ranked 63rd out of 564 kids in her class.  Although she has had to give up a lot – playing volleyball is no longer an option for her — she is determined to make the most out of life and not dwell on the things she can't do.
For any caregiver in Carly's situation, holding a full-time job while caring for a child with a serious health disorder, trying to make ends meet and run a household is extremely difficult. Unfortunately, not all of Carly's employers were sympathetic to her situation, which created a domino effect of employment instability and ultimately, the loss of her home. For two months, Carly and Baylee have called a one-room hotel room "home."
In January of 2018, Carly joined Century Fire as an accounts receivable administrator. After sharing details of her situation with her regional manager she was encouraged to submit a grant application through the FirstService Relief Fund. Having an immediate family member with a severe illness is considered a "Qualified Event" in the program and Carly was awarded a grant. Her grant helped cover housing expenses and included Target gift cards. "Baylee was thrilled with the Target gift cards! She has outgrown many of her clothes so to be able to go the store and pick out whatever she wanted made her so happy," said Carly. "We spent the whole weekend at Target and she loved every minute of it."
Since Baylee's diagnosis, Carly has dedicated herself to learning as much as she can about her daughter's condition, and providing support for other families in similar situations. She volunteers at Texas Neurofibromatosis Foundation in Dallas and is forming a fundraising team for a charity walk benefiting the Children's Tumor Foundation.
Carly feels extremely fortunate to work for a company that truly cares about its people and is grateful for the support she has received, saying, "The FirstService Relief Fund is such a blessing for someone in a time of need and when I can give back, I will, because I know others helped contribute when I was in a financially hard time and that is how we all can help each other."
If you are facing personal hardship we encourage you to look into the FirstService Relief Fund. And if you are able to donate, please consider doing so. Every dollar donated goes to help our people in need, and no amount is too small.
FirstService Residential: Raises $10,246 for Lurie Children's Hospital
On July 27, 2018, the Illinois office of FirstService Residential held its annual banquet and invited 60 of its top-tier vendors to participate in the event. The banquet drew approximately 100 property members and board members. All proceeds from the event benefited Lurie Children's Hospital, which provides world-class care for children. Lurie Children's hospital employs over 1,400 physicians representing 70 pediatrics specialties.
Planned Companies: Service Day for Ronald McDonald House
FirstService Residential: Plaid for Dad Day Supports Prostate Cancer Canada
Everyone at FirstService Residential's North Region office was "mad for plaid" during a special fundraising event to support Prostate Cancer Canada. Associates dressed in their favorite plaid shirts and enjoyed a BBQ and raffle, raising more than $2,500 for cancer research. Prostate cancer is the most common cancer in men, and in Canada, one in seven men will be diagnosed with the disease in their lifetime.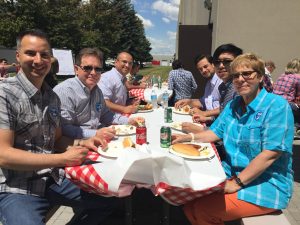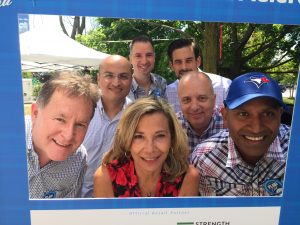 FirstService Corporation: Donates to Sick Kids Hospital in Toronto
To commemorate the holiday season, FirstService Corporation made a donation to Sick Kids Hospital in Toronto on behalf of its employees.
FirstService Residential: $119,650 Raised for Canuck Place Childrens Hospice in British Columbia
FirstService Residential British Columbia raised $199,650 for the Canuck Place Children's Hospice in Vancouver.