CertaPro: Steps Up for Breast Cancer Research
CertaPro Painters continued its annual drive to raise awareness and funds for breast cancer research. This fall, one hundred people joined together for a 45 day campaign to step it up for breast cancer. The group collectively took 32,522,095 steps, exceeding the event organizers' step and fundraising goals. More than $11,800 was raised for the Breast Cancer Research Foundation and the Breast Cancer Society of Canada. The top 10 steppers accounted for 8,692,553 steps, nearly 27% of the total step number! Thanks and congrats to all who participated!
CertaPro: Supporting Alzheimer's Awareness is a Family Affair
When Jason Phillips, Director of Strategic Accounts for CertaPro Painters, learned one of the company's clients, JEA Senior Living, had formed a fundraising team for the virtual Walk to End Alzheimer's he was quick to sign on to help.
He recruited family to join him, launched a fundraising page and promoted his plans through LinkedIn. Within a little over a week he exceeded his fundraising goal of $500.
The day of the walk, Jason was joined by his wife, his sister and her husband and they spent the morning hiking the beautiful Salmon Creek trail in his hometown of Vancouver, WA.
"Alzheimer's is a disease that devastates many families, and it's one that afflicts many residents of our client's senior living facilities," said Jason. "It was my pleasure to help raise awareness of Alzheimer's and support the work JEA Senior Living does to honor the experience of aging for the residents they serve."
JEA Senior Living operates more than 50 specialized care centers around the country to meet the special needs of Alzheimer's patients.
For more information, or to make a donation, click here.
American Pool: Takes the Polar Bear Plunge to Support Special Olympics
Two dozen members of American Pool recently braved the icy waters of Chesapeake Bay with a shared goal in mind, to raise money to support Special Olympics Maryland. Collectively, the team raised more than $12,000 for this worthy cause. Dressed in everything from monkey suits to patriotic swim trunks, they brought fun and enthusiasm to the plunge. In addition to increasing awareness and funding for Special Olympics, the event was also a wonderful way to build camaraderie and promote the American Pool brand because, after all, they are the experts in all things water-related!
Read More
Century Fire: Providing Funding for a New School in Brazil
California Closets: Supporting the Critical Work of the National Brain Tumor Society while Honoring One of Their Own
On a brilliant, sunny morning in Phoenix, thousands turned out to join the fight against brain tumors at the Phoenix Brain Tumor Walk. Nearly 70,000 Americans are living with a brain tumor today, and the National Brain Tumor Society is working tirelessly to influence and fund research and groundbreaking discoveries and programs.
The Phoenix event was special to the team at California Closets, as one of their beloved design consultants has been receiving treatment for a brain tumor since August. David Slivinski was diagnosed just days after his 40th birthday. David, who joined his colleagues at the Walk, was met with a special message at the finish line where he saw a sign created by the National Brain Tumor Society that read, "In Honor of David Slivinski."
David continues to inspire all of us who have read his story or followed his blog with his positive attitude and appreciation of all the good things in life.
Paul Davis: A Successful Bake Sale and Silent Auction to Benefit a Special Infant
Through Social Purpose, Paul Davis not only supports the community and environment, but the company also supports its people.
Many of the 2019 initiatives have been passion projects presented by individual team members. This one was no different. A team member shared that her infant cousin had undergone multiple heart surgeries in his first year of life and asked if we could do something to help their family. So the team held a bake sale and silent auction. In one day, the team raised $700!
This inspired an outside donor to contribute another $300, reaching a total of $1,000. The team member shared that she had no idea if we could even help, but she saw no harm in asking. She was blown away at how everyone leaned in and contributed. Needless to say, Robbie's family is incredibly grateful for this group of strangers helping their little boy. This was another wonderful example of Paul Davis coming together in the spirit of giving to #FirstServeOthers!
Paul Davis: Helps Raise $230,000+ for Child Cancer Fund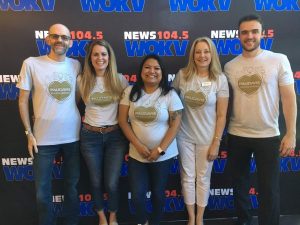 For the past several years, Paul Davis has supported the Child Cancer Fund, a local non-profit by recruiting volunteers to work the phone lines at the WOKV Care-A-Thon.
This year, 17 volunteers from Paul Davis manned the phones to take donations from the community. More than $230,000 was raised for this worthy cause.
Thomas Sirk, Paul Davis Compliance Specialist said, "At Paul Davis, we believe in serving people in their time of need. This extends beyond the restoration space and into the communities we love. I am proud to work for a company that engages in serving others like we did at the Child Cancer Care-A-Thon. It was a true blessing and joy to attend this event and support a cause that offers encouragement to people going through hard times. As we encourage and support others, and we are also encouraged. I look forward to the event next year!"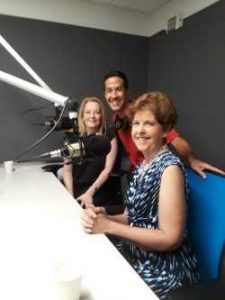 The Child Cancer Fund is a cause that's near and dear to the hearts of many at Paul Davis, especially Child Cancer Fund Founding Member and Paul Davis Legal Counsel, Laura Ferrante.
"It is amazing to be able to share this experience with my Paul Davis family." said Laura. " The Child Cancer Fund is very personal to me and an honor to support the professionals who lovingly provide support to children and their families who go through this difficult time. I am honored that Paul Davis has chosen this great cause in our community!"
FirstService Residential: "Our Month to Give Back" Supports the United Way
FirstService: Walking Together to Raise Crucial Funding for MS Research
On a bright and beautiful Sunday morning, colleagues from FirstService's corporate office in Toronto joined together to participate in the Multiple Sclerosis Society of Canada's Mandarin MS Walk in support of friends, family members and co-workers who are affected by the disease. Through its fundraising efforts, the team raised $3,380 for MS research.
"We were happy to join 1,000 other community members to support the MS Walk. When we were researching causes to support, the fact that Canadians have one of the highest rates of MS in the world means many of us have friends and loved ones afflicted with the disease," said Ryan Bedrich, director, finance for FirstService Corporation. "It is estimated that 1 in every 385 Canadians is affected with the disease."
MS Can Strike Any One at Any Time
While it is most often diagnosed in young adults aged 20 to 49, younger children and older adults are also diagnosed with the disease.
MS is  classified as an autoimmune disease of the central nervous system which attacks the protective covering of the nerves called myelin. This causes inflammation which often damages the myelin which is necessary for the transmission of nerve impulses through nerve fibres. If damage to myelin is slight, nerve impulses travel with minor interruptions. In cases with substantial damage, and if scar tissue replaces the myelin, then nerve impulses may be completely disrupted, and the nerve fibres themselves can be damaged.
An unpredictable condition, MS can cause symptoms such as extreme fatigue, lack of coordination, weakness, tingling, impaired sensation, vision problems, bladder problems, cognitive impairment and mood changes. It affects different people in different ways and these effects can be physical, emotional and financial.  While there is currently no cure, every day researchers are learning more about what causes it in the hopes of one day knowing how to prevent it.
This is why it's so important to raise awareness of MS and funding for its research. Learn how you can help support the Multiple Sclerosis Society of Canada.
FirstService Residential: Helps raise $30,000 for The Center for Autism at FAU