CertaPro: Steps Up for Breast Cancer Research
CertaPro Painters continued its annual drive to raise awareness and funds for breast cancer research. This fall, one hundred people joined together for a 45 day campaign to step it up for breast cancer. The group collectively took 32,522,095 steps, exceeding the event organizers' step and fundraising goals. More than $11,800 was raised for the Breast Cancer Research Foundation and the Breast Cancer Society of Canada. The top 10 steppers accounted for 8,692,553 steps, nearly 27% of the total step number! Thanks and congrats to all who participated!
California Closets: Supporting Men of Valor and Helping Shape Better Futures
Following up on its 2018 involvement with Nashville-based Men of Valor's Phase 1 housing build, California Closets of Tennessee recently completed the installation of 33 more closets in the Phase 2 building, Valor Ridge. This brings its total contribution to 93 new closets — with all materials and labor given free of charge.
The new residential spaces at Valor Ridge will provide housing for participants in Men of Valor's year-long prison aftercare and re-entry program. The recidivism rate (prisoners rearrested after release) in Tennessee is 51 percent. The recidivism rate for graduates of the Men of Valor program is less than 10 percent.
"We are excited to continue to support the life-changing work of Men of Valor," says CCTN Owner Kurt Schusterman. "California Closets of Tennessee is committed to looking for ways to give back to others who are making an impact in our community. Clearly, the Men of Valor team is doing just that. This was a team effort and is a great example of living out our company values."
Additionally, Kurt and his team were thrilled to get the support of CC vendors to help make this possible, including DixiePly for wood product, Valendrawers for the drawers, Salice for the runners, and TAG hardware for poles and other hardware.
"As a faith-based nonprofit we are always grateful for donations," said David Miller, Men of Valor's Development Director. "We appreciate California Closets of Tennessee once again stepping forward to support our mission by donating closets for the second phase of housing at our Valor Ridge community."
FirstService Residential: "Our Month to Give Back" Supports the United Way
Floor Coverings International: Supporting the Garden Club at a Wisconsin Elementary School
LIVunLtd: Providing Daily Necessities for Our Community's Homeless
FirstService Corporation: Providing Needed Funds to Ensure Students Receive Healthy Meals
At FirstService's Toronto office, the Social Responsibility Committee is always looking for ways the team can positively impact its community. Child poverty is a growing problem, and many children do not receive adequate nutrition as a result.  Through a series of "Breakfast Club" fundraisers, the team raised $1,960 to fund Student Nutrition Programs in the Toronto area.  For every $100 raised, 70 children will receive a hot and healthy breakfast. 100% of the donations collected by the team went directly into these
programs.
"Food security is something many of us take for granted. For kids, having access to nutritious meals affects their ability to focus and learn in school," said Erica Foster, senior manager, accounting and part of FirstService's Social Responsibility Committee. "Toronto Foundation for Student Success' mission to help students succeed by providing meals is something that resonated to many of us and we wanted to do our part to help ensure no child in Toronto begins the school day hungry."
FirstService Residential: Raises $10,246 for Lurie Children's Hospital
On July 27, 2018, the Illinois office of FirstService Residential held its annual banquet and invited 60 of its top-tier vendors to participate in the event. The banquet drew approximately 100 property members and board members. All proceeds from the event benefited Lurie Children's Hospital, which provides world-class care for children. Lurie Children's hospital employs over 1,400 physicians representing 70 pediatrics specialties.
FirstService Corporation: Donates to Sick Kids Hospital in Toronto
To commemorate the holiday season, FirstService Corporation made a donation to Sick Kids Hospital in Toronto on behalf of its employees.
FirstService Corporation: Daily Bread Annual Food Drive a Success – 377 lbs of Food
In keeping with the spirit of giving and the holiday season, FirstService Corporation participated in the annual "holiday food drive" for the DAILY BREAD FOOD BANK. We are proud to announce that FirstService doubled its donation, and achieved 377 lbs of food, which surpassed the 300 lbs of food goal.
2016 – 178lbs of food
2017 – 377lbs of food
FirstService Corporation is proud to serve the underserved. #FirstServeOthers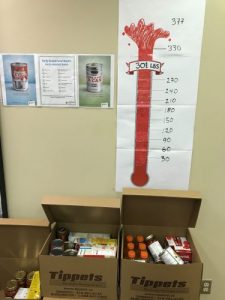 FirstService Corporation: Daily Bread Annual Food Drive