TLS: A Culinary Celebration of Diverse Cultures
At TLS, diversity is honored and celebrated every day, and in a variety of ways. Recently, the team came together to celebrate cultures through the time honored tradition of breaking bread together. During a company potluck lunch event, team members were invited to bring in dishes reflective of their native cultures. If you're a foodie at TLS, this was certainly a day to remember!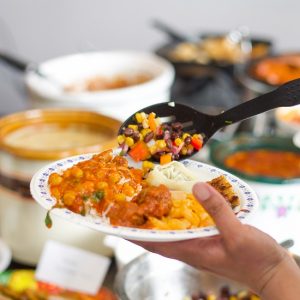 The event was held mid-week, providing a nice boost to break up the week and giving those who had the day off an excuse to drop by the office. Fifty dishes were shared among team members, and for many, it was a great introduction to foods from cultures they haven't yet experienced.
For Raemie O'Brien, director of program development, the day helped illustrate the wide variety of different cultures that are reflective of the TLS work force. A fun take away for her was a newfound love of fruit with a spicy kick.
Having an appreciation of our differences and similarities helps build and strengthen relationships. This potluck event was a great (and delicious!) way to introduce colleagues to different cultures and build camaraderie.
Team Lead Paula Davis said, " I was able to connect with some of the Moment Makers that I don't typically get a chance to interact with. I learned a lot about different cultures and why and how different foods are prepared."