Earth Day Clean Up – New Jersey
Join us on Earth Day! Thursday, April 22 Along with SERVPRO of Eatontown/Long Branch, we will be picking up trash on the banks of the Shrewsbury River, Sandy Hook Bay and Mill Creek Marsh in Secaucus to help clean up our local waterways. Our locations are: Oceanport – Itaska Ave./Seneca Pl. Monmouth Beach – Tocci Ave. Monmouth Beach – Shrewsbury Dr./N. Rd.
Sandy Hook – Lot B
Secaucus – Mill Creak Marsh Trail Bring boots and gloves. More details on attached flier.
Declutter Your Home and Help Those in Need
Take a good look around your home. Chances are, you'll find things you're not using that are just taking up space. We all accumulate extra stuff over the years that we don't need. And often these very items could be put to good use by someone who does need them.
Now is a great time to reduce clutter in your home, simplify your life, save money and give back to those in need.
What's the best way to start your decluttering project?
Start small, beginning with one area or room at a time. It can be as simple as your junk drawer or your guest bathroom vanity.
We suggest for each room or area you plan to declutter, you begin with five boxes (or bags). Label them as follows: Keep, Donate, Trash, Recycle, Re-locate.
An important part of your decluttering process will be collecting and relocating items you are keeping so they are kept together and in a logical place, i.e. setting up a central location for all batteries or lightbulbs. This is where your life will be simplified, and time and money will be saved. Knowing what you have on hand — and where to find it! — will eliminate unnecessary purchases in the future.
As you go through items in your home, ask yourself the following questions:
Is this a duplicate item? If the answer is yes, then ask if you really need duplicates of it or if you can make do with one (or two)

Is this something I use on a frequent basis? If yes, consider whether its current storage location is convenient when you need it

Is this something I've never used or worn? If yes, you probably won't miss it so this would be a good candidate to donate

Have I worn this in the last year? If no, let it go!

Do I like this item or am I keeping it for sentimental reasons? If you are holding onto old wedding gifts you will never use because you feel bad letting them go, remember the person who gave them to you will never know you re-homed them
Decluttering provides many benefits, among them giving you more time in your day because when you've effectively decluttered your home, finding the items you are looking for becomes easier. Also, who wants to take the time to clean around knickknacks and other dust collectors? Knowing what you have on hand makes you less inclined to buy more of what you already own, helping you save money. You may also consider selling your more valuable items such as artwork or furniture pieces through a second hand site.
What to do with items you wish to donate (or sell)
There are many non-profit organizations accepting donations for those in need. Some are even doing pickups from donors' homes. A simple Google search should help you locate non-profits in your area.
Another option is to post them online on sites like Freecycle, Craigslist, OfferUp, Nextdoor and Facebook Marketplace. This can be a good idea for furniture and larger items that non-profit groups may not be able to easily transport. If you have valuable furnishings or antiques, you may consider bringing them to a local consignment store to be sold.
There are so many benefits to decluttering your home, and it feels wonderful to know that your discards are going to someone who will value them.
Tidying expert Marie Kondo said it best, " The best way to find out what we really need is to get rid of what we don't."
Planned Companies: Helping Beautify Local Parks and Beaches as Part of #CleanUpWeek
Planned Companies demonstrated its commitment to Our Environment during a recent series of events in support of #CleanUpWeek. Company volunteers cleaned up parks and beaches to support this important initiative, and experienced a fun team building event at the same time.
Read More
Paul Davis: Helping to Keep Local Beaches Beautiful
One of the perks of working in Jacksonville, FL is access to its beautiful beaches. This is something many on the team at the local Paul Davis Restoration office enjoy with family and friends, and with each other, participating in Social Purpose activities such as beach training runs and 5K events.
Giving Back to the Community & Enhancing Corporate Culture
Recently, the Quality Assurance department began planning a beach clean up as a team building event. When Kali Freeland, talent and change leader, heard about the event she asked Director of QA & Cat Services Leanne Etheridge if they could expand the group to include the whole team as an activity in support of two pillars of our Social Purpose, Our People and Our Environment. Leanne's response: "The more the merrier! We can even expand it to the local office and sister brands in Jacksonville." So that's just what they did.
A team of 21 turned out on a beautiful Saturday morning and got to work picking up trash and other debris.  In total, they removed over 20 gallons of trash from a space that serves as an estuary, endangered turtle breeding ground, and a place of peace and enjoyment for beachgoers. Their hard work did not go unnoticed. In addition to getting lots of thank yous from beach goers, a local newspaper even published a story about their contributions.
While the event was a big success, the team realized if they hold their next clean up event on a Sunday they could have an even bigger impact, cleaning up after Saturday's beach goers have left.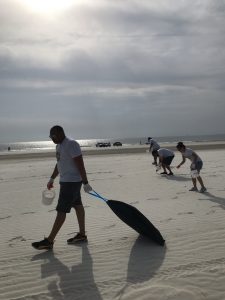 "I am so proud to be part of an organization that supports and encourages the concept of serving others," said Leanne. "I realize that change can provide the most impact when it happens close to home, so deciding to facilitate and participate in an event that directly impacted the local community was an easy choice. Those of us who are Jacksonville natives are a little spoiled – the beach is a short drive for most. Because of that, I felt it was important to preserve and protect such an amazing and important resource. And more than that, seeing patrons ask us who Paul Davis is and what are our team was doing, really inspired me to engage more in serving our local community."
The team at Paul Davis embraces Social Purpose as a way to not only give back to the local community but also to enhance its corporate culture.
"I'm proud to work for a company that supports the causes and organizations that our employees care about," said Kali. " We're seeing more engagement in social purpose than ever and I believe the grass-roots approach and variety not only allows team members to share their own "passion projects" but it also allows us to see the results of our work right here in our own communities."
FirstService Residential: Underwater Clean Up Sets World Record
FirstService: Committed to Our Environment on Earth Day and Every Day
An important pillar of our Social Purpose is Our Environment. Our companies routinely participate in activities designed to raise awareness about sustainability and environmental causes.
Making a Difference in Our Communities & Our Offices
Our teams lead and participated in a variety of clean up activities including roadside cleanups in Texas and Northern Virginia, beautifying office parks outside our offices in Ontario, helping restore a healthy ecosystem in South Florida and rallying those around us to join together to maximize our impact during London Clean & Green.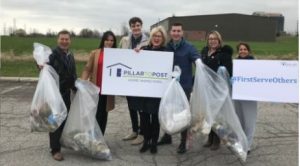 Within our FirstService Residential offices in Dania Beach, Florida and Dallas we stepped up our efforts to conserve energy and encourage recycling. In Dallas office we provided additional blue bins for associates to have convenient access to recycling at their desks, established recycling stations and provided education on which items are recyclable. We also brought in experts to educate our teams about water quality improvement, pollinator conservation, and co-existing with wildlife in an urban environment, valuable information we will share with our client communities.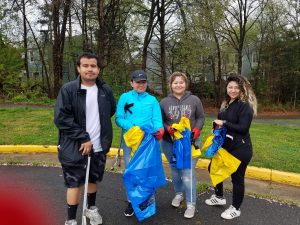 This June we will once again participate in #Daylight Hour, a global social media campaign to raise awareness about energy conservation in the workplace. Last year 115 of our locations participated and we were recognized with for the fourth consecutive year with the Jetsetter Award for the most participating offices.
American Pool: Beautifying Our Roadways to Maintain a Healthy Environment
American Pool Enterprises: Beautifying Maryland Roadways through Adopt-A-Highway Program
On a steamy summer afternoon, a team of seven volunteers from American Pool's corporate office took to the streets as part of a shared commitment to #FirstServeOthers.
Together, the team collected 13 bags of trash consisting largely of plastic bottles, fast food waste and cigarette butts. The effort was hampered by Mother Nature, thanks to a heat index of more than 100 degrees and unseasonably high humidity making working conditions difficult. By the time the team was finished cleaning two miles of roadway, each was soaked to the skin but energized by a successful day of giving back.
American Pool Enterprises chose Adopt-A-Highway because the team cares deeply about the environment around them and the program is scalable, allowing numerous volunteers to come together at one time. In addition to the community service aspect, there are also teambuilding benefits as well. American Pool has committed to four highway clean up days a year — doing its part to keep roadways clean and free of waste.
FirstService Residential: Teambuilding and Community Service Go Hand-in-Hand
Seeking a teambuilding activity that also contributed to the greater good, the Chicago office at FirstService Residential joined together on August 3rd for its second annual beach clean up. A team of 50 company volunteers donned their gloves and set out to clean up trash and other debris along Oak Street Beach.
The effort supported the mission of the Alliance for the Great Lakes. Participating in the event is more than just picking up trash – volunteers get to become conservation biologists for the day, and are tasked with recording data of what and how much is collected. This data is entered data into a publicly-accessible online Adopt-A-Beach system database and shared with local beach health and city officials who use the information to make lake and beach improvements. More than 52 pounds of trash was collected.
According to FirstService Residential Illinois President Asa Sherwood, this is an event associates look forward to every year. Getting to enjoy a gorgeous summer day while doing something positive for the community and environment is a win for all involved.
FirstService Residential: Alliance Great Lakes Adopt-A-Beach Program
22lbs of garbage was collected by FirstService Residential associates who volunteered with Alliance Great Lakes' Adopt-A-Beach program.