CertaPro: Kids Comfort For Cancer Event Honors the Legacy of a Friend to Many
Traci DiStefano was a force of nature. A friend to many, her smile would light up a room. Wherever Traci went, fun and laughter followed. Traci was known for her contagiously positive spirit, love of life and was described by many as a true "wonder woman." She had an expansive group of friends, many of whom she had known most of her life, who ranged from peers her own age to the children of her friends.
When Traci was diagnosed with ovarian cancer, her network of friends and family — "Traci's Tribe" as she called them – rallied around her to help. She approached her treatments with optimism and her characteristic ability to see the beauty in life, even during the toughest times.
When Traci tragically lost her battle in 2019, she left a huge void in the lives of those who knew and loved her. Traci's Tribe wanted honor her memory in a way that would be meaningful to her. Because of the excellent care Traci received at the Fox Chase Cancer Center in Philadelphia, the Tribe decided to host a fundraiser to benefit the cancer center. The Kids Comfort for Cancer event would be a way to thank them for caring for Traci, and also to help others facing treatment.
A special fundraising committee
A committee of eight was formed to begin making plans for their inaugural event. What made this committee unique is that it was comprised of four adults and four young teens, who shared equally in the responsibility for making sure all details were covered. The event co-chair was 14 year-old Casey Stone, daughter of CertaPro CEO Mike Stone.
Traci was one of Casey's mother Kim's dearest friends, and Traci was like an aunt to Casey. Although Casey has always demonstrated a caring for others, having held fundraisers for various causes for more than half her life, this event was even more special. Casey wanted to honor her friend's legacy in the best possible way, creating an event that brought families together to celebrate Traci's life and inspiring other kids to get involved in meaningful causes.
A family friendly event with activities for all ages
The event was held on the anniversary of Traci's passing, at CertaPro's new corporate headquarters in Audubon, PA. To keep with the family-friendly theme, event organizers planned a wide range of interactive activities such as corn hole, balloon art, a kids' arts and crafts area, photo booth, ping pong, face painting and much more.
Leading up to the event, committee members hand made bracelets and colorful cancer awareness ribbons and assembled baskets to sell at the event. Attendees got to choose which cancer they wanted to represent at the event, making it even more meaningful to those whose lives have been touched by cancer. The committee also worked with local retailers, restaurants and service providers to donate items to be used for the raffle and silent auction. Cav's Philly Tailgates generously donated all food and service staff for the event.
Special event speakers included an oncologist from Fox Chase and two cancer survivors whose shared their personal experiences. The committee set a fundraising goal of $15K, and when all was said and done, the event raised more than $50K. In addition to promoting the event on the Social Purpose event calendar, Casey was invited by local media to appear on news shows to raise awareness of the event, which she did with poise and grace.
When we spoke to Casey, she shared details of the important life skills she acquired through this process – time management, prioritization, agenda creation, goal setting, communication, public speaking and teamwork. She even deployed a post-survey to event attendees to determine what they liked best about the event and if there were any suggestions for the future.
When asked about her favorite memory of Traci, Casey shared a special moment. The Christmas Eve before Traci's passing, Casey and her friends organized a group of 25 carolers for a surprise visit to Traci's house where they sang some of her favorite carols. She was shocked and happy to see them, and overwhelmed by their kindness. It was another cherished memory of Traci that will live in their hearts forever.
Finding your Social Purpose can happen at any age, and getting kids involved is a great way to set them on a path of charitable service to others.
California Closets: Supporting the Critical Work of the National Brain Tumor Society while Honoring One of Their Own
On a brilliant, sunny morning in Phoenix, thousands turned out to join the fight against brain tumors at the Phoenix Brain Tumor Walk. Nearly 70,000 Americans are living with a brain tumor today, and the National Brain Tumor Society is working tirelessly to influence and fund research and groundbreaking discoveries and programs.
The Phoenix event was special to the team at California Closets, as one of their beloved design consultants has been receiving treatment for a brain tumor since August. David Slivinski was diagnosed just days after his 40th birthday. David, who joined his colleagues at the Walk, was met with a special message at the finish line where he saw a sign created by the National Brain Tumor Society that read, "In Honor of David Slivinski."
David continues to inspire all of us who have read his story or followed his blog with his positive attitude and appreciation of all the good things in life.
FirstService Relief Fund: Providing Critical Financial Support During Brain Cancer Treatment
After spending 15 years working as an interior designer in New York City, David Slivinski needed a change. Having recently lost his mother, he was ready for a fresh start in a new city. He chose Phoenix for its warm weather and active lifestyle and was thrilled to join California Closets as a design consultant, the perfect role for him given his interior design background and genuine desire to help others.
In July he purchased a home, deepening his ties to his new community. When he chose his home, its proximity to the world-renowned Barrow Neurological Institute wasn't a consideration. And he had no way of knowing how significant this location would soon become for him.
Milestone birthday celebration takes shocking turn
David turned 40 at the end of July and celebrated the milestone birthday during a trip to see friends in Seattle. He had just enjoyed a birthday dinner when suddenly he became violently ill and began having seizures.
Forty eight hours later he awoke in a hospital to stunning news – doctors suspected he had a brain tumor. A biopsy soon confirmed the diagnosis and his medical team began to discuss treatment options with him.
David's tumor is called an Oligodendroglioma, and it occupies three sections of his brain. Due to its large size, surgery is not an option. Instead, doctors prescribed an aggressive course of radiation and chemotherapy in an effort to keep the tumor from growing.
David began his treatment at Barrow — less than a mile from his home. Because of his recent history of seizures, he is no longer able to drive so he often walks to the hospital for treatment – to the amazement of medical staff. David believes keeping fit and strong – physically and mentally – will be key to his ability to fight this disease. In addition to the radiation and chemotherapy treatments he's receiving, David incorporates yoga, acupuncture and follows a nutrient-rich diet comprised of foods widely believed to fight cancer.
He recently received some incredible news, the tumor had shrunk! This is a development even his doctors deemed highly unlikely. In fact, in their eyes, simply stopping the growth of the tumor would be a victory, so this discovery was something to celebrate.
No day but today
Throughout his journey, David has maintained a positive and spiritual outlook, "If we are going through something in life, it's because we are strong enough to get through it. We become better people through the events that shape our lives." His mantra is "No Day But Today," which fans of the musical Rent will recognize, and which is a reminder that every day is a precious gift.
Doctors will continue to closely monitor his tumor, and David hopes to be cleared to begin driving again, so he can return to the job he loves so much.
FirstService Relief Fund helps our people when they need it most
David has shared his story with us in the hopes it will inspire colleagues to learn more about the FirstService Relief Fund. No one ever expects to face a catastrophic health issue, and certainly not at such a young age, but David's story is a sobering reminder that unforeseen events can happen to any of us at any time. That's why FirstService established the Relief Fund, to help our people when they need it most.
The grant David received from the Relief Fund was badly needed to help pay medical bills, and in his words, was necessary for survival.
"My cancer has been a blessing that has defined my life in a positive way. It has allowed me to see the depth of the human heart and the love people have even for complete strangers," says David. "I am very, very grateful for the support of my colleagues at California Closets, and to all who have donated to the FirstService Relief Fund. Your support has made a huge difference for me, and I cannot thank you enough."
To learn more about the FirstService Relief Fund, please visit firstservicerelief.com. 100% of money donated goes directly to help our people in need. We hope you consider setting up a recurring payroll donation. Even just $1 per pay period can make a difference.
David's colleagues in Phoenix are joining together for the Phoenix Brain Tumor Walk on December 7, 2019. If you are in the Phoenix area and are interested in joining the California Closets Phoenix team in this wonderful event, or if you would like to support this worthy cause, please click here.
Read about David's inspirational journey on his blog, www.davidslivinski.com.
Paul Davis: Helps Raise $230,000+ for Child Cancer Fund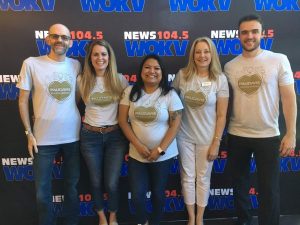 For the past several years, Paul Davis has supported the Child Cancer Fund, a local non-profit by recruiting volunteers to work the phone lines at the WOKV Care-A-Thon.
This year, 17 volunteers from Paul Davis manned the phones to take donations from the community. More than $230,000 was raised for this worthy cause.
Thomas Sirk, Paul Davis Compliance Specialist said, "At Paul Davis, we believe in serving people in their time of need. This extends beyond the restoration space and into the communities we love. I am proud to work for a company that engages in serving others like we did at the Child Cancer Care-A-Thon. It was a true blessing and joy to attend this event and support a cause that offers encouragement to people going through hard times. As we encourage and support others, and we are also encouraged. I look forward to the event next year!"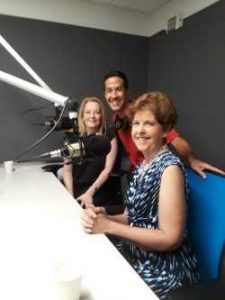 The Child Cancer Fund is a cause that's near and dear to the hearts of many at Paul Davis, especially Child Cancer Fund Founding Member and Paul Davis Legal Counsel, Laura Ferrante.
"It is amazing to be able to share this experience with my Paul Davis family." said Laura. " The Child Cancer Fund is very personal to me and an honor to support the professionals who lovingly provide support to children and their families who go through this difficult time. I am honored that Paul Davis has chosen this great cause in our community!"
FirstService Relief Fund: A Broken Knee Becomes a Blessing in Disguise
Nancy DiTore, a Concierge with Planned Companies in New Jersey, took a misstep at work which resulted in a broken knee, painful surgery and a lengthy recovery. During her recovery, she got caught up on her routine medical appointments and was stunned to learn she had breast cancer.
Nancy shared her incredible story with us and describes how the FirstService Relief Fund was able to ease her financial worries during this difficult time.
Read More
FirstService Residential: Lindsay Ginger Nominated for 2019 Woman of the Year by the Leukemia and Lymphoma Society
FirstService Relief Fund: Easing Financial Strain Following Cancer Surgery
The FirstService Relief Fund provided much needed financial support to assist a FirstService Residential associate as she recovered from cancer surgery.
Read more
about Vanessa's story and how you can help support others facing personal financial challenges.
FirstService Residential: Raises $10,246 for Lurie Children's Hospital
On July 27, 2018, the Illinois office of FirstService Residential held its annual banquet and invited 60 of its top-tier vendors to participate in the event. The banquet drew approximately 100 property members and board members. All proceeds from the event benefited Lurie Children's Hospital, which provides world-class care for children. Lurie Children's hospital employs over 1,400 physicians representing 70 pediatrics specialties.
Paul Davis Restoration: Care-a-thon Raises $257K for Child Cancer Fund
On July 20, 2018, for the second consecutive year, 17 employees from the Paul Davis Restoration Jacksonville, FL area joined with other concerned citizens for a very special cause: to raise much needed money for the Child Cancer Fund during the 2018 WOKV News 104.5 Care-a-thon. The Care-a-thon was live radio broadcast run by radio and TV personalities with special guest speakers throughout day.
Working in shifts, employees manned the phones during the 12 hour event and recorded donations from caring citizens throughout northern Florida and southern Georgia. The event was a big success – raising $257,540, and exceeding its stated goal of $250,000.
The Child Cancer Fund is a non-profit established by a group of Jacksonville parents – including a member of Paul Davis Corporate Legal Counsel — whose children were receiving treatment for cancer. The group helps families manage the challenges of childhood cancer focusing on the emotional, practical, educational and financial support they need every day.
Those in attendance hailed the event as one of the most personally rewarding experiences they have had. And it was not without its share of excitement: As the end of the day drew near, the team was almost $7,000 short of its goal so they decided to keep the phone banks open and asked people to continue calling in. The phones lit up, and even after the initial goal was met, generous citizens continued to open their wallets to support the effort.
One of the most poignant moments of the day was when children and cancer survivors went on-air to tell their personal stories and share how the Child Cancer Fund has impacted their lives. These individuals inspired both the listening audience and on-site volunteers with their bravery and resilience.
According to  Paul Davis volunteer and Brand Sherpa Emily Schafer, "Having this opportunity to support children and their families in the NE Florida area who are suffering from cancer is an honor. What I love about Child Cancer Fund is that it started because parents saw what an impact one woman was having on their children during their treatment. She was making sure that they weren't just receiving medication and going through tests, she was making them smile, laugh, and still feel like kids."
For information on how you can donate to the Child Cancer Fund, please visit their website.
Planned Companies: Service Day for Ronald McDonald House