College Pro: Sock drive & day of service
In the fall of 2018, College Pro was joined by other FirstService brands to bring warmth to homeless and vulnerable community members in Toronto's West End during the cold winter months. Heading into College Pro's November Conference in Toronto, the leadership team looked for a way to make a difference in the community, and in talking to local organizations that work with homeless populations, learned socks were a big need for many. The Christie Ossington Neighbourhood Centre (CONC) was chosen as the organization to accept the socks. College Pro took a two-part approach to making a difference: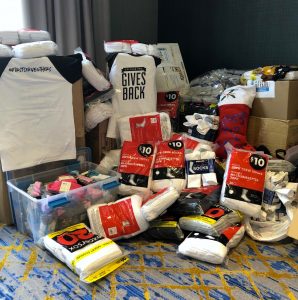 First, the team organized a sock drive during the six weeks leading up to the conference, and created a competition among the business units to see who could raise the most socks. Other FirstService brands were invited to participate and they were issued a challenge: Any brand generating more socks than College Pro would get the chance to take over College Pro's Instagram page for a day. The brands stepped up and generously donated, contributing to a total of more than 3,000 socks. Alas, College Pro generated the most, so there was no Instagram takeover (this time!).
The second way the team worked to make a difference was to spend a half day of the company's November Conference volunteering at the CONC's new community centre. Construction on the centre had just been completed days before and the College Pro team transformed it in just a few hours.
"College Pro sent a 45-member dream team to our new community centre in Toronto's West End," said Director of Operations at CONC, Julia Gonsalves. "The group turned a post construction site into a beautiful building ready for our community – clean windows inside and out, furniture assembled correctly, mopped floors and sparkling surfaces. To top it off, the socks donated by the group to our community programs means hundreds of community members will have warm, dry feet this winter. We are so grateful to College Pro for contributing so much to our community this season!"
The combined efforts of the sock drive leading up to the volunteering event were extremely rewarding for the College Pro team, and brought everyone together in a meaningful way. In post-Conference feedback, many people mentioned the event as a highlight for them. One team member said: "My favorite part was loading all the socks into the van and realizing what an impact we are going to make to the community and help others during these cold months." The College Pro team gives a big thank you to the other brands in FirstService who helped make the sock drive a big success, and a thank you to the Christie Ossington Neighborhood Centre for making a difference in the lives of so many people in need.