CertaPro Paints It Pink for Breast Cancer Research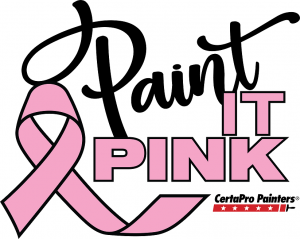 Did you know one in eight women in the United States is at risk for developing breast cancer in her lifetime.* In fact, breast cancer is one of the most common cancers in women worldwide, and represents one in four of all cancers in women. It is a cancer that also affects men. The Breast Cancer Research Foundation (BCRF) estimated that more than 266,000 new cases of invasive breast cancer would be diagnosed in women in the United States in 2018, and 2,550 cases diagnosed in men.
The team at CertaPro decided to Paint It Pink during October – Breast Cancer Awareness Month – and are partnering with the BCRF to raise awareness and funding for this important cause. The mission of BCRF is to prevent and cure breast cancer by advancing the world's most promising research – providing grants to researchers worldwide. Currently, the Foundation is providing funding to more than 300 researchers in 14 countries in 6 continents.
CertaPro's Campaign Provides Funding for Breast Cancer Research
As part of the campaign, participating franchisees will donate $5.00 from every residential interior paint project contracted from October 1 through October 31. The company has also established fundraising pages for employees and clients in the US and Canada who wish to support the cause.
"Choosing to support the Breast Cancer Research Foundation (BCRF) was an easy decision for our team," said Greg Taylor, Owner, CertaPro Painters of Central Arkansas. "The unfortunate reality is most everyone knows a friend or family member who has been affected by the disease. We chose to partner with BCRF because of their focus on funding important research. We're thrilled to partner with BCRF and support their mission finding a cure for breast cancer."
Throughout the month, CertaPro's team of expert painters will be trading in their usual golden shirts and wearing specially designed pink shirts to commemorate the program. Team members will be equipped with leave-behind materials to share with homeowners to help broaden awareness of this important cause while demonstrating CertaPro's commitment to Social Purpose.
"By partnering with the Breast Cancer Research Foundation, largest private funder of breast cancer research in the world, CertaPro is propelling research forward, faster," said Stephanie Kauffman, BCRF Chief Partnerships Officer. "Our partners are critical to our mission of ending breast cancer by funding the world's most promising research."
To learn more, or to make a donation, please visit give.bcrf.org/CertaProPainters.
*American Cancer Society