FirstService Relief Fund facts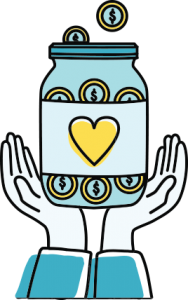 As you are aware, earlier this year we established the FirstService Relief Fund as a way to help our people who are facing financial hardship in the aftermath of a natural disaster or unforeseen personal event. We know that some of our employees face personal hardships and we want to do our part to help ease the stress for them. Our Fund allows employees to give and to receive in times of need. Anyone may donate to the Fund, and every dollar donated goes directly to help employees of FirstService companies, franchisees or employees of franchisees. The Fund is administered by Emergency Assistance Foundation, Inc., a third-party that specializes in administering funds of this nature.  Grants are awarded in amounts ranging from $500 – $3,000 and can help cover expenses during difficult times. Year-to-date, we have received 12 grant applications, eight of which have qualified to receive grants. So far we have awarded $20,500 in grants.
What types of events would make an employee eligible for assistance from the Fund?
There are many scenarios that might affect our employees and could make an employee eligible for assistance. These include natural disasters, severe weather events, serious illness or injuries, death of an immediate family member, impacts to primary residence not covered by insurance, military deployment, domestic abuse, terrorist actions or falling victim to a violent crime. You can find a complete list of what Fund administers call "Qualified Events" in the FAQ section of
www.firstservicerelief.com
.
Am I eligible to apply for a grant even if I haven't donated?
Yes, the Fund is available to all employees who work a minimum average of 30 hours per week, regardless of whether they have donated. Full details on eligibility criteria can be found on the Fund
Application FAQ
page.
How can I donate?
Donating to the fund is easy, although optional, and there are several ways you can donate:
One-time or recurring donation through www.firstservicerelief.com/home/payroll
Recurring donation through automatic payroll deduction

This is a great way to contribute to the fund – you can choose to have any amount deducted from your pay. It's easy to start and you are able to suspend it at any time
Not all of our companies are set up for this service yet so you will want to speak to your HR department to see if this is available at your company

Donation via text
We are excited to offer you a third way to donate. Simply text keyword FSVRF to 50155 to make a donation in any amount
How much should I donate?
This is a question we get asked a lot, and the answer is as much or as little as you wish. No amount of money is too small to give, and every dollar truly makes a difference. Consider this:  We are an organization 33,000 strong. If each of our employees committed to donating just $1 a month that would equate to $396,000 a year! Another way to look at it is this – if each of us gave up just one Starbucks or Tim Horton's coffee a month (approx. $4), that would amount to $1,584,000!  So, the more money we collect, the more we can do to help our employees.
Can I earmark my donation to go to an employee of a particular company?
The Fund has been set up to pool all money donated ensure that employees in need have access to the Fund regardless of how much has been donated through their particular company.
Is money donated used to administer the Fund?
No, 100% of money donated goes directly into the Fund to help our employees. FirstService covers all administrative costs associated with managing the Fund. For a full list of Frequently Asked Questions, and links to donate to the Fund, please visit
www.firstservicerelief.com
.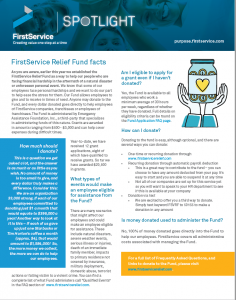 Download PDF