Message from the CEO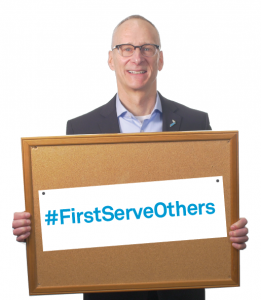 Across FirstService we feel a deep rooted responsibility to serve others. It is who we are. We bring this passion for caring service to our customers everyday but it is also evidenced through the numerous causes and events that we create and participate in to help the underserved in our communities. We launched "The FirstService Social Purpose" to recognize these efforts and to create awareness across the company so that we can collectively support and enhance these local efforts while inspiring more contributions to social good.
As part of our Social Purpose launch we are establishing the "FirstService Relief Fund" to assist our people in times of crises when they are faced with unavoidable economic hardship. The funds will be donated by FirstService Corporation and voluntarily by FirstService employees through payroll deduction. It is an opportunity to help each other. More information is included at http://purpose.firstservice.com/firstservice-relief-fund/.
I am very proud to be part of the FirstService family. Together with our franchisees we are 33,000 strong and collectively we are having a powerful and positive impact on the communities where we work and live.  As a company we are committed to supporting and nurturing our extraordinary culture which drives an authentic desire to #FirstServeOthers.
This is just the start.
Download Letter