Planned Companies: Helping Beautify Local Parks and Beaches as Part of #CleanUpWeek
Planned Companies demonstrated its commitment to Our Environment during a recent series of events in support of #CleanUpWeek. Company volunteers cleaned up parks and beaches to support this important initiative, and experienced a fun team building event at the same time.
Read More
FirstService Relief Fund: A Broken Knee Becomes a Blessing in Disguise
Nancy DiTore, a Concierge with Planned Companies in New Jersey, took a misstep at work which resulted in a broken knee, painful surgery and a lengthy recovery. During her recovery, she got caught up on her routine medical appointments and was stunned to learn she had breast cancer.
Nancy shared her incredible story with us and describes how the FirstService Relief Fund was able to ease her financial worries during this difficult time.
Read More
FirstService Relief Fund: Helping an Employee Manage Funeral-related Expenses
Emmanuel N. is a team leader at Planned Companies in New Jersey and a recent FirstService Relief Fund grant recipient. He has agreed to share his story with us to help raise awareness of the FirstService Relief Fund so those in need will apply for grants and those who wish to donate will consider doing so.
Emmanuel emigrated to the United States from the Republic of Ghana, West Africa in 2008. As is tradition in Ghana, with the passing of his father, Emmanuel assumed role as head of his family's household. With that comes the responsibility of funding a celebration of life ceremony on the one-year anniversary of his father's death. Respecting cultural traditions is important to Emmanuel and his family; however he found himself facing a personal financial hardship.
Planning a Special Ceremony 5,000 Miles from Home
The ceremony – which brings together family, community members and town elders — honors his father and marks the end of the mourning period for his widow. The event includes music, dancing and the unveiling of his father's inscribed tomb.
Coordinating the ceremony was a challenge for Emmanuel, not only because of the logistics involved with planning an event in a country 5,000 miles away, but also because of the costs associated with it. Unexpected funeral-related expenses can stretch working families' budgets creating a personal financial hardship for many people.
Fortunately for Emmanuel, the FirstService Relief Fund is available to assist our people in times of personal financial hardship. Because his situation was considered a "Qualified Event" under the guidelines of the Fund, he was awarded a grant.
Emmanuel is grateful for the support he received from the FirstService Relief Fund. "Losing my father was a big blow for me and my family. It's easy to let a hardship get you down, but I want people to know that there is help available, and even when things seem very bad, they will get better," he said.
Emmanuel said everyone he spoke with at Employee Assistance Foundation (the Fund's administrator) throughout the process of getting approved for the grant was extremely helpful and kind. When asked if he had a message for his FirstService colleagues who donated to the Fund, he had this to say, "God bless them for donating. Now it is my turn to contribute to the Fund so I can help others who face their own financial hardships."
100% of Money Donated to the FirstService Relief Fund Goes to Help Our People in Need
We encourage everyone to donate what they can and to remember that every dollar donated makes a difference and no amount is too small. For many people, establishing recurring donations in small amounts, either through payroll deductions or debit or credit cards, can be easier to incorporate into their budgets than a one-time lump sum donation. Even just one dollar per pay period can have a huge impact when you consider the number of people – 33,000 and growing — in our organization.
If you are facing a personal financial hardship, please visit www.firstservicerelief.com and learn more about the FirstService Relief Fund.
Planned Companies: #FirstServeOthers Benefits the Northern Virginia Ecosystem
Finding your personal Social Purpose can be as easy as finding a cause you are passionate about.  For Margaret Bicz, Director of Business Development in Planned Companies Alexandria, VA office, that cause was helping her local environment.
For the past two years, the Washington Metropolitan Chapter of the Community Associations Institute (WMCCAI), www.caidc.org has led an effort to clean up the area's watershed, which is fed by a maze of tributaries. Keeping the area clean of debris helps keep the water flowing and the ecosystem working as nature intended.
Proper Planning Helps Ensure a Successful Event
Margaret volunteered to serve as a Site Leader on a recent clean up day, which required some pre-work leading up to the event. She needed to select a location, make sure necessary permits were acquired, recruit volunteers, train them on their duties for the day and obtain waivers from helpers. She utilized social media to promote volunteer opportunities to other community members and networked with business contacts, and family and friends to get involved.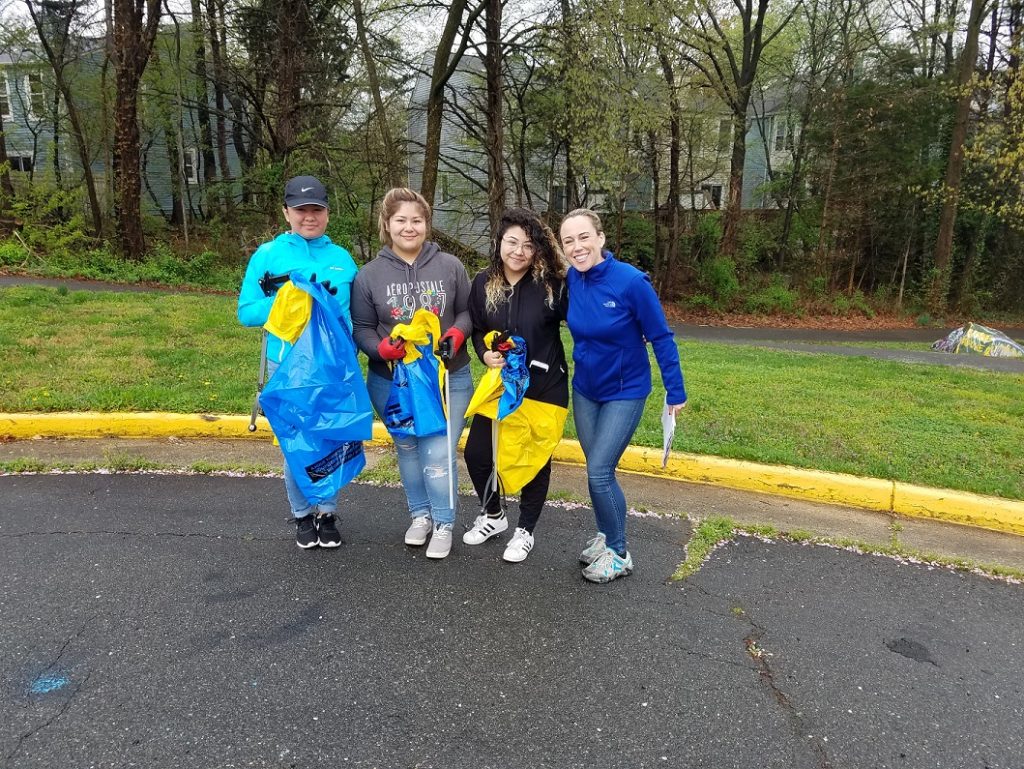 She worked alongside a team of 20 volunteers, several of whom were colleagues from Planned, along with CAI, Reston Association volunteers and friends.  In all, the team collected more than 250 lbs of trash. Much of the debris was to be expected, empty beer and soda cans, fast food wrappers and plastic bags, but oddly, the team also noted that several empty shoe boxes had been discarded.
"The plastic bags were a real issue," said Margaret. "They would become encased around logs creating a log-jam. When removed, you could immediately see the water begin flowing again."
Cleaning Up Debris Beautifies the Environment & Protects Wildlife
The clean up project supported the Alice Ferguson Foundation which was established in 1954 as a non-profit organization chartered in the state of Maryland. The Foundation's educational programs bring together students, educators, park rangers, communities, regional organizations, and government agencies throughout the Washington, D.C. metropolitan area to promote the environmental sustainability of the Potomac River watershed. Trash that accumulates along the watershed isn't just an eye-sore to visitors, but is also deadly to the abundance of wildlife that calls the area home.
"When we were finished, there was not a single piece of debris along the mile-long creek we cleaned. This provided all of us with a tremendous feeling of accomplishment," said Margaret. "This was a truly rewarding experience. The time commitment of just a few hours on a Saturday morning made it do-able for busy professionals like myself to get involved in my community and know that I've made an important impact. I'm so grateful for my colleagues at Planned who were eager to get involved. In addition to being an important environmental project, it was also a fun team building event for all of us."
Planned Companies: Supporting the American Heart Association through Valentine's Day Fundraiser
Employees at the
Planned Companies'
headquarters in Parsippany, NJ celebrated Valentine's Day by showing their collective commitment to #FirstServeOthers. For a $5 donation, they got to wear jeans and enjoy a delicious Warm Your Heart hot chocolate bar with fruit and desserts. The event raised $160 which was donated to the American Heart Association.
Planned Companies: Service Day for Ronald McDonald House
Planned Companies: 2,300 toys collected on behalf of Toys for Tots
2,300 toys were collected by the generous team members of Planned Companies this year.
Planned Companies: Launches "Planned Cares"
Planned Companies, headquartered in Parsippany, New Jersey (a subsidiary of FirstService Corporation) launched the name "Planned Cares" to communicate all the great work they have and will continue to participate in within their communities. Robert Francis, President and CEO talks about Planned Cares