FirstService Residential: Coming Together in Florida to Support CASA and the Fight Against Domestic Abuse
FirstService Residential: California Office Outreach Activity Promotes Mindfulness and Teamwork
As part of the 2018 FirstService California Annual Meeting, associates gathered in Irvine, California to celebrate the growth and accomplishments achieved in 2017 by the region's approximate 1,000 Associates. Attendees participated in a fun outreach activity which involved building 50 care packages for families who have been displaced by fires, homelessness or emergency situations.
According to one Associate who was attending their first Annual Meeting, "it was heartwarming to see our people work together with such care and thoughtfulness to create a basket that will offer hope to people going through a difficult time."
The activity was fitting in that it reflected the theme of the day: Our Future Starts with Us. We work in teams, made up of individuals, who are making a difference in the lives of each other, our company, our clients, and the communities and residents that we serve. Each regional team was responsible for bringing one of ten items that were included in the Welcome Home Baskets (candles, board games, decorative item, broom/dust pan, first aid kit, etc).
The event was a tremendous success!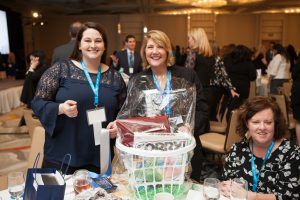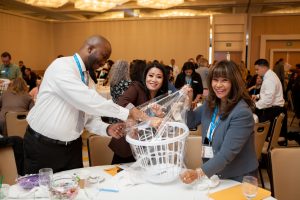 Paul Davis Restoration: Campaign to raise money for The Leukemia & Lymphoma Society of Central PA
FirstService Corporation: Distributes food, supplies and companionship with Ve'ahavta in Toronto
This past week, 3 members of FirstService Corporation teamed up with Ve'ahavta to distribute food, drinks, supplies and most importantly companionship for 6 hours on a brisk February evening. This night is 1 of 3 planned over the next several months for FirstService to get involved. Some Statistics:
Over 235,000 Canadians experience homelessness in a year, including over 5,000 in Toronto alone (Toronto has the 2nd highest homeless population of any Canadian city).
Approximately 1,350 chronically homeless people die each year in Canada, with an average life expectancy of 39.
Ve'ahavta's Theory of Change
by providing health supports, referrals to shelters, and essential supplies, we can meet the basic physical needs of homeless or under-housed individuals, and we can ensure their safety.
by providing consistent, frequent, and compassionate service, we can decrease social isolation, and build trusting relationships that provide the emotional support needed to create change.
by engaging and educating volunteers, we can raise consciousness about homelessness, reduce the stigmatization of the homeless, and inspire people to seek solutions to end homelessness.
Waj H. (Analyst, Risk and Compliance) describes his experience as "eye-opening". "It made me recognize how fortunate I am to have everything I need, and perhaps I shouldn't complain about the small inconveniences in my life. I could go on and on, but overall I'm thankful I had the opportunity to give back, connect and appreciate how fortunate I really am. Thank you to Ryan B. (Director, Finance) for organizing."
If anybody in the Toronto area ever wants to get involved with this great program, feel free to learn more
here. 
FirstService Residential: Touch a Heart Foundation Spa Day Event a Success
American Pool: Cupid's Chase 5K
We had a great race on Saturday! It was muddy but overall a good morning. Thank you for all your support — our team raised the most money because of your support!
Thanks again for your support. Looking forward to our next 5k when the weather is warm and sunny.
Our Cause:
Community Options believes in the dignity of every person, and the freedom of all people to experience the highest degree of self-determination. Embracing this philosophy, Community Options provides housing, support serviced and advocacy assistance to help empower people with disabilities.
Funds raised from Cupid's Chase will support Community Options' residential and employment services provided to individuals with disabilities.
www.comop.org
Paul Davis Restoration: Works with Habijax to support young man's new home
On Saturday, February 3, 2018, volunteers from Paul Davis worked with Habijax, the local Habitat for Humanity affiliate, to touch up, clean, and punch a new home for a young man who will be moving in next month. This young man was there working with us. It was so cool to hear him talking about where he would put the TV and he was ever so grateful for our help. What a beautiful experience! I attached a photo of our small but mighty team.
American Pool: Fighting Pediatric Cancer Together + Love Your Melon
We are glad to announce a new partnership with "Love Your Melon".  An amazing organization whose mission is to improve the lives of children battling cancer.
Love Your Melon donates 50% of the profits from all products to their nonprofit partners in the fight against pediatric cancer. These donations include but are not limited to; work in the fields of pediatric oncology, fund cancer research initiatives and providing immediate support for the families who have children battling cancer.
To date, Love Your Melon has donated over 3.8 million dollars. This monetary amount does not include the 120,000 hats they have handed out to those battling pediatric cancers. All of the beanies are made in the USA.
With all the good that surrounds this company, American Pool has recently co-branded with Love Your Melon in an effort to bring more attention to this great cause. In addition to the proceeds that will be donated American Pool has made a commitment to provide one beanie to local children in need for every co-branded hat we sell!
Each hat will have co-branded patch with American Pool / Love You Melon and are priced at $30 – Plus shipping.
You can visit their website www.loveyourmelon.com to find out more about their mission and other products, however, our co-branded hats are only available through American Pool at this time.
If you are interested in helping us and this great cause, have any questions please send an email to LYM@americanpool.com.
FirstService Residential: Voices for Children Gala a Success
On January 13, 2018, FirstService Residential Florida High-rise Division attended the Voices for Children Gala as a Tai Pan Guardian sponsor. This philanthropic support enables Voices For Children to support the Miami-Dade Guardian ad Litem Program and provide direct financial assistance for children in foster care. The team had a great time supporting a great cause!
FirstService Residential: Waste Reduction at a 620 unit in the Bronx, NY
Our very own FirstService Residential Property Manager Talks About Jamie Tower's Eco-Friendly Initiatives. More information can be found here:
https://cooperator.com/article/mitchell-lama-bronx-coop-going-green/full