Resource Center
We've created an online resource center to provide a variety of materials to help educate teams about Social Purpose and share important information about our FirstService Relief Fund. Raising awareness of the Relief Fund is critical if we are going to assist our people during their difficult times.
If there is something that would be useful for you that you don't see here, or if you would like the source files so you can customize them with your branding, please contact us at socialpurpose@firstservice.com.
Feel free to download the materials below (just click on the links) and have them printed locally for display throughout your offices. Consider any places your team members visit including lunch rooms, break rooms, elevators, bulletin boards, even company washrooms! You may also distribute the flyers via email to those who may be working off site.
We will continue to add materials to this page, so check back often!
FirstService Relief Fund Awareness Resources
Displaying visual reminders of the FirstService Relief Fund is a great way to keep the Fund top-of-mind for those in need of help during times of personal financial hardship.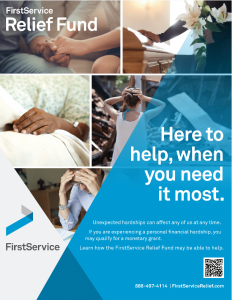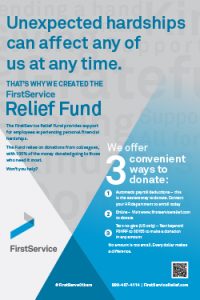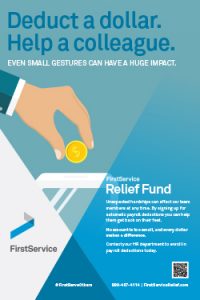 FirstService Relief Fund Education Materials
These FAQs are helpful for anyone who may be in need of a grant now, or in the future.
FirstService Relief Fund Application FAQs
This presentation is useful when onboarding new hires or as a refresher for existing team members.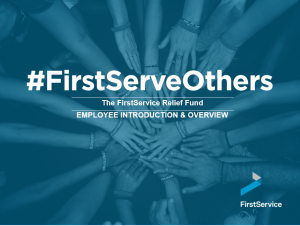 Employee Introduction to the FirstService Relief Fund
Reviewing this handy checklist before applying for a grant helps ensure applicants understand eligibility and what's required when submitting their application. This can simplify and streamline the process, and ensure needed funds are provided as quickly as possible.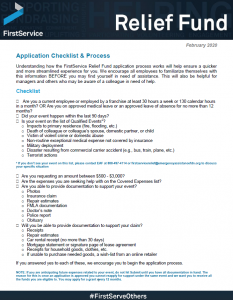 Application Checklist & Process Overview
Event Calendar Awareness Materials
Ensuring all of the wonderful events our teams are coordinating or participating in make their way onto the calendar helps raise awareness and boost participation numbers.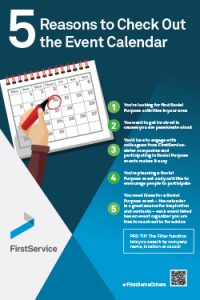 5 Reasons to Check Out the Event Calendar Poster
5 Reasons to Check Out the Event Calendar Flyer
Get Involved in Social Purpose – Calendar Reminder Poster
Get Involved in Social Purpose – Calendar Reminder Flyer
#FirstServeOthers Awareness Materials
Consistent use of our #FirstServeOthers hashtag helps amplify our Social Purpose message, and allows us to motivate and inspire others to get involved in events and causes that are meaningful to them.