FirstService Brands: Sharing Some Swag with a Special Logo Collector
Mary McMonagle, General Counsel for FirstService Brands, recently opened a nice letter from Dennis, a young man on the autism spectrum that he sent to CertaPro Painters® and FirstService Brands. One of Dennis's favorite hobbies is to study and collect logos. He especially liked CertaPro's logo because it included stars, which reminded him of the American flag.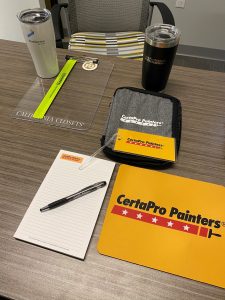 The team was so touched by Dennis's thoughtful note that they decided to do something special to thank him. They collected a variety of "swag" items from various sister companies and put together a package to send to Dennis.
"Dennis's kind note really brightened our day, and we felt it only fitting to do something special for him in return," said CertaPro Painters' President & CEO, Mike Stone, who included a personal thank you note to Dennis in the package. "These are challenging times for all of us, and we hope our package puts a smile on Dennis' face."
Dennis's letter affected everyone in the office, but perhaps no one more than Mary, whose own nephew is also on the autism spectrum. "Those with autism are truly special individuals, and helping cultivate their interests brings joy to their lives. I'm glad we could do our part for Dennis," said Mary.
This is just another example of how our teams truly care about those in our communities, and why we are so committed to #FirstServeOthers.