Planned Companies: #FirstServeOthers Benefits the Northern Virginia Ecosystem
Finding your personal Social Purpose can be as easy as finding a cause you are passionate about.  For Margaret Bicz, Director of Business Development in Planned Companies Alexandria, VA office, that cause was helping her local environment.
For the past two years, the Washington Metropolitan Chapter of the Community Associations Institute (WMCCAI), www.caidc.org has led an effort to clean up the area's watershed, which is fed by a maze of tributaries. Keeping the area clean of debris helps keep the water flowing and the ecosystem working as nature intended.
Proper Planning Helps Ensure a Successful Event
Margaret volunteered to serve as a Site Leader on a recent clean up day, which required some pre-work leading up to the event. She needed to select a location, make sure necessary permits were acquired, recruit volunteers, train them on their duties for the day and obtain waivers from helpers. She utilized social media to promote volunteer opportunities to other community members and networked with business contacts, and family and friends to get involved.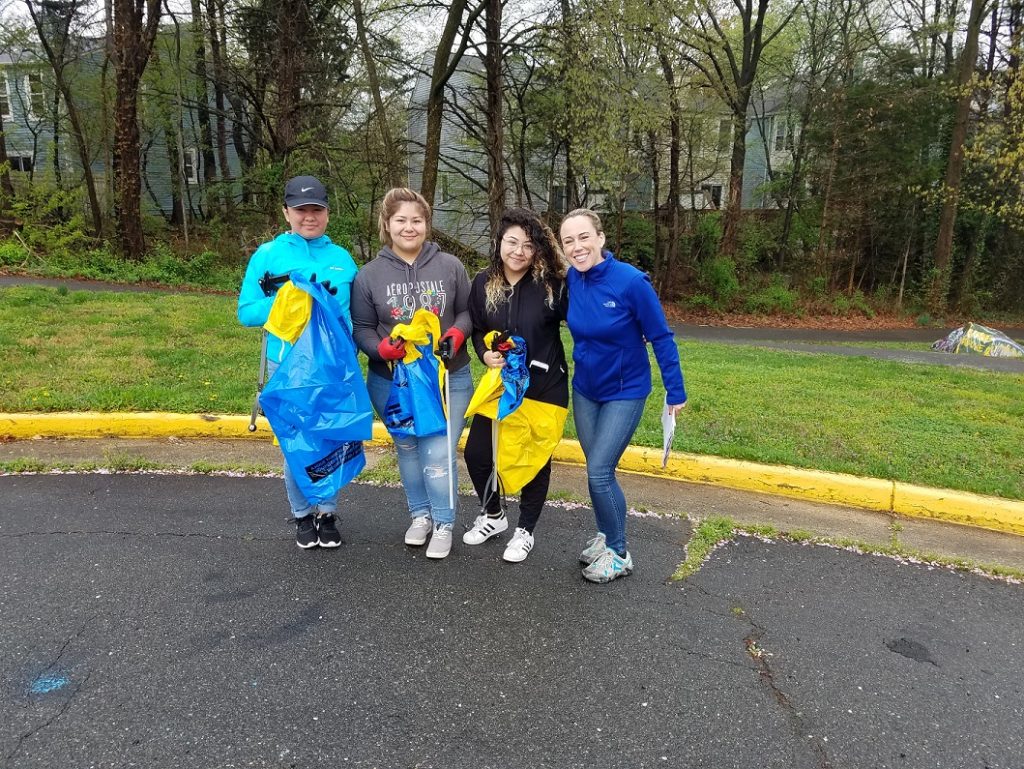 She worked alongside a team of 20 volunteers, several of whom were colleagues from Planned, along with CAI, Reston Association volunteers and friends.  In all, the team collected more than 250 lbs of trash. Much of the debris was to be expected, empty beer and soda cans, fast food wrappers and plastic bags, but oddly, the team also noted that several empty shoe boxes had been discarded.
"The plastic bags were a real issue," said Margaret. "They would become encased around logs creating a log-jam. When removed, you could immediately see the water begin flowing again."
Cleaning Up Debris Beautifies the Environment & Protects Wildlife
The clean up project supported the Alice Ferguson Foundation which was established in 1954 as a non-profit organization chartered in the state of Maryland. The Foundation's educational programs bring together students, educators, park rangers, communities, regional organizations, and government agencies throughout the Washington, D.C. metropolitan area to promote the environmental sustainability of the Potomac River watershed. Trash that accumulates along the watershed isn't just an eye-sore to visitors, but is also deadly to the abundance of wildlife that calls the area home.
"When we were finished, there was not a single piece of debris along the mile-long creek we cleaned. This provided all of us with a tremendous feeling of accomplishment," said Margaret. "This was a truly rewarding experience. The time commitment of just a few hours on a Saturday morning made it do-able for busy professionals like myself to get involved in my community and know that I've made an important impact. I'm so grateful for my colleagues at Planned who were eager to get involved. In addition to being an important environmental project, it was also a fun team building event for all of us."